How to Balance Caregiving with Your Work and Career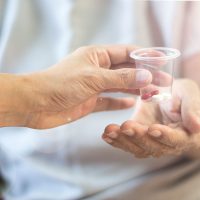 Providing care for a senior family member, particularly long-term care, can bring about lost wages and missed opportunities for the caregiver. A report by Genworth entitled Beyond Dollars 2018 shows that although statistically having to miss work to provide care is down 7% from 2015, overall 70% of caregivers still report missing work because of caregiving responsibilities. While the percentage remains high, employers are better able and more likely to meet the needs of an employee who also routinely provides family caregiving services. The corporate shift to create flexibility and policy that addresses caregiver needs in the workplace will continue to increase as the baby boomer population ages. The change is welcome as, on average, caregivers spend 21 hours every week providing care.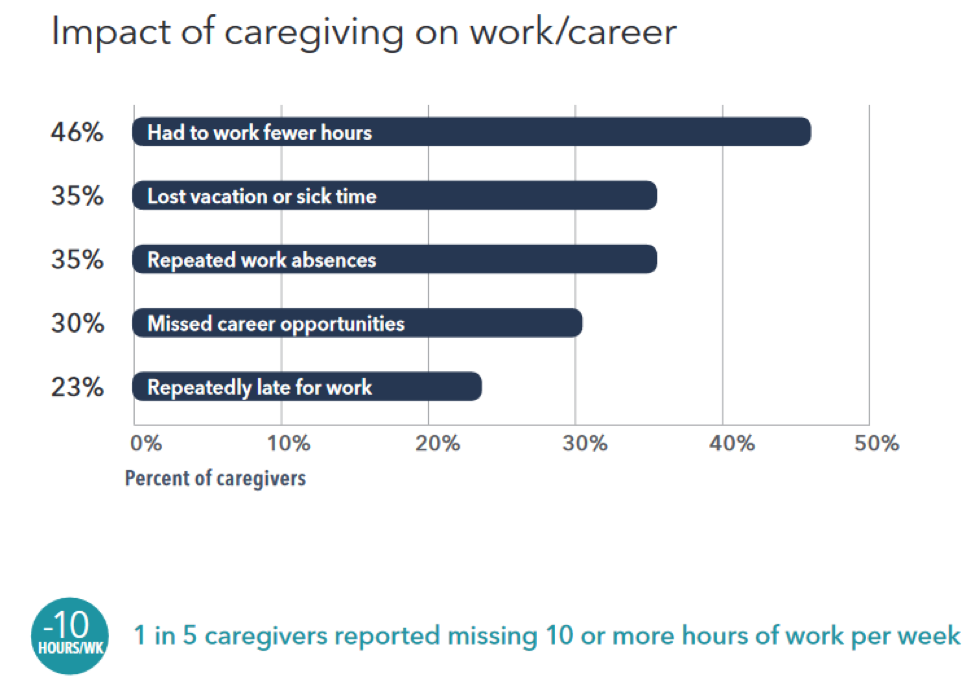 Source: Genworth Beyond Dollars Report
How Employers Are Helping Employees Balance Caregiving and Career Responsibilities
Flexible work hour policies are having a positive effect as caregiver employees can transport their loved one to a daytime doctor appointment or other scheduled event. Some of the employee's workload is being shifted to online work remotely from their home while other employers will allow a coworker to donate vacation or sick time to a caregiving employee. Julie Westermann of Genworth told McKnight's Senior Living" Access to caregiver support or employee resource groups is another benefit. Also, counseling, coaching or wellness programs specific to supporting caregivers themselves and the financial and legal implications." There are additional policies and benefits available for family caregiver support that include subsidized in-home back up care and emergency care, and other low-cost or free resources and services.
It is widely projected that 70% of all seniors will need long-term care during their lifetime. Increasingly that care is being provided in the home by family, and the ages of both parties involved are becoming younger. Genworth found that the average age of a care recipient in 2018 is 66. Comparatively in 2010 62% were older than 75. The age of caregivers has shifted from an average age of 53 in 2010 to an average age of 47 in 2018. Fully 58% of family caregivers are now in the 25 – 54-year age bracket.
As the need for senior caregiving increases, employers will have to continue increasing accommodations to employees who are also family caregivers. For career planning purposes a family caregiver should take full advantage of coaching and support programs that outline future financial and legal implications of caregiving as it relates to their employment. Mitigating negative circumstances before they present themselves is the goal. The sooner a realistic assessment of needs for the senior is handled the sooner a caregiver can put a plan in place to protect their livelihood and future retirement.
Employers understand the negative impact that absences, reduced hours and chronic tardiness have on productivity and the bottom line. A caregiver must strategize how best to cover the responsibilities that could put their career in jeopardy. Corporate policy changes and additional resources regarding employees who are also caregivers are helping make this situation mutually agreeable. The percentage of caregivers reporting negative impacts on their career due to caregiving is dropping. While this is a positive sign, there is a lot of groundwork to do to ensure caregivers have the opportunity to retain their job without undue financial loss or penalty.
Remember that most seniors or near seniors are in denial about their potential need for care and most caregivers sort of fall into their role after an adverse health event of a family loved one. A caregiver's savings and retirements funds are put at risk when no planning is in place. Planning can help to reduce stress and negative impacts on future caregiver status as well as career success.
We are here to help.
If you have any questions about something you have read or would like additional information, please call Andre O. McDonald, a knowledgeable Howard County estate planning, special needs planning, Medicaid/long-term care planning and veterans pension planning attorney at (443) 741-1088 to schedule a consultation.
DISCLAIMER: THE INFORMATION POSTED ON THIS BLOG IS INTENDED FOR EDUCATIONAL PURPOSES ONLY AND IS NOT INTENDED TO CONVEY LEGAL OR TAX ADVICE.