Can a "Medicaid Divorce" Protect Your Assets?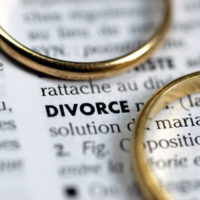 The term Medicaid divorce refers to a strategic (yet often controversial) legal concept where an otherwise happily married couple will seek a divorce so that one spouse can qualify for Medicaid assistance, and impoverishing the well spouse.
To better illustrate why a married couple might consider a Medicaid divorce, let's take a look at an all-too-common scenario…
Why Would a Couple Seek a Medicaid Divorce?
Richard and Michelle got married late in life. This was their second marriage, and both had children from the prior marriages. The couple wanted their children to inherit from their respective parents, so Richard and Michelle signed a prenuptial agreement to keep their property clearly separated.
Unfortunately, Richard was then diagnosed with Alzheimer's. Medical bills piled up, his condition worsened, and soon Michelle was no longer able to care for him at home. But, the cost of nursing-home care was formidable.
The Medicaid program is designed to help pay for that staggering cost of long-term care. However, before a couple can be eligible for Medicaid assistance, the rules require that the assets of both spouses are counted to pay for the care of one, even if only one spouse needs the care. Prenuptial agreements do not matter. The Medicaid rules count the assets of both spouses together. Michelle would be permitted to keep some of her property for her own use – but this would not be enough for her to maintain her standard of living in retirement, and still leave enough for Michelle's children to inherit.
Is a Medical Divorce the Answer? Maybe… Maybe Not.
Michelle heard that divorce might solve this dilemma. The couple's assets would get separated in the divorce proceedings and, after that, only the property designated as Richard's would be applied to the cost of his care. He would spend that down, Medicaid would then step in, and Michelle's share would remain her own.
But Michelle didn't like the idea of a divorce that would be only "on paper," because she had no intention of deserting Richard in his time of need. Richard's children weren't happy, either. And if the divorce was going to work as intended, the couple should probably consult not just one but three professionals – a Medicaid/long-term care attorney, a financial planner, and a divorce lawyer.
But this plan would involve expense, possible family unrest, and uncertainty as to whether a court would approve the plan. The divorce strategy comes with significant downsides.
The Importance of Early Planning for Medicaid & Long-Term Care
If you want to avoid a situation similar to Richard & Michelle's devastating dilemma, the key is early planning. Consulting a Medicaid/long-term care planning attorney at least five years before the need for Medicaid arrives would be ideal. However, if that is not possible, at McDonald Law Firm, Andre O. McDonald, a knowledgeable Howard County Medicaid/long-term care planning attorney can assist you in finding other, less-fraught ways, short of divorce, to preserve your assets while qualifying for Medicaid.
Early planning, if possible, is always best. If we can be of assistance, please don't hesitate to reach out to McDonald Law Firm at (443) 741-1088 to schedule a no obligation consultation.
*If you are looking for more information about estate planning after a divorce in Maryland, please click here.
DISCLAIMER: THE INFORMATION POSTED ON THIS BLOG IS INTENDED FOR EDUCATIONAL PURPOSES ONLY AND IS NOT ENTENDED TO CONVEY LEGAL OR TAX ADVICE.