Flo Jo's Tragic Mistake: A Missing Will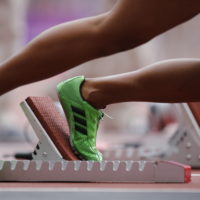 If you've created a will, congratulations! You have made your intentions clear to the world and have provided for your loved ones based on what you determined was best. One caveat, and Rule #1 when creating your will – make sure to tell someone where to find it!
Olympic Gold Medalist's Death Tears Family Apart When Will Is Lost
Olympian sprinter Florence (Flo Jo) Griffith Joyner was considered to be the "fastest woman of all time" having broken the world records in the 100 and 200 meter sprints in the 1988 Olympics. She was only 28-years-old at the time. Sadly, she died ten years later from an epileptic seizure.
Although she had created a will, it could never be located; as a result, Flo Jo was considered to have died intestate (without a will), it took a probate court four years to close her case. In the end, it caused years of litigation and tore her family apart.
Where There's No Will, There's No Way
Without a will to instruct a probate court as to your intentions, there is no way for it to adequately provide for and protect your loved ones. In Flo Jo's case, a judge eventually appointed a third party to administer the estate because tensions had grown out of control between her husband and her mother.
Her mother claims Flo Jo had promised her that she could stay in the house for the rest of her life. Her husband claims that was not the agreement. Tensions only increased throughout the probate process.
Her mother unsuccessfully sued her son-in-law for wrongful death. The two also battled in court for years over, believe it or not, setting up a charitable organization in Flo Jo's name. The bottom line was that the bad blood between them was never resolved.
Don't Tear Your Family Apart!
No one dreams of having their family torn apart over who gets what and when after they die. However, as Flo Jo's case shows, that's exactly what happens sometimes. It's much easier to accept someone's wishes when you know they are accurate.
That's exactly what a will provides. Without one, your loved ones are left wondering about your true intentions – which is never a good idea.
Here at McDonald Law Firm, we can help you create an estate plan which best fits your needs. Avoid tearing your family apart. Get the peace of mind knowing your intentions are clear, documented, and easy to find. Contact us today at (443) 741-1088 for a free no obligation consultation. You owe it to your family!
DISCLAIMER: THE INFORMATION POSTED ON THIS BLOG IS INTENDED FOR EDUCATIONAL PURPOSES ONLY AND IS NOT INTENDED TO CONVEY LEGAL ADVICE.