Estate Planning Basics for Newlyweds – How to Get Prepared for the Unexpected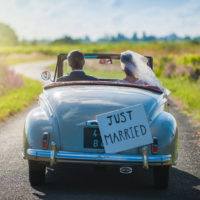 It's that time of year – the time for beautiful weddings, fun receptions, delicious cakes, special gifts, and romantic honeymoons. While this is a joyous time for everyone, especially newlyweds, it's also time for you and your new spouse to plan for your future – for richer or for poorer, in sickness and in health.
Why Newlyweds Need to Plan Their Estates
Why should newlyweds care about estate planning? Because everyone – young or old, married or single – needs to protect themselves and those they love.
Unfortunately, many couples spend more time planning their honeymoon than they do planning the best way to protect each other.
What Happens Without an Estate Plan?
This fallout of becoming incapacitated or dying without an estate plan is serious, expensive, and painful. It often causes financial ruin and family discord, lasting for generations.
Without an estate plan:
You will leave your spouse and the rest of your family in the dark – they won't know what you would want to happen if you became incapacitated or died. This often leads to family fights as each individual champions for what he or she thinks you would have wanted.
You'll leave a huge burden on your loved ones to make tough decisions about medical treatments and the withdrawal of life support.
The court and state law, not you, will decide who makes health care decisions if you are unable to make those decisions yourself.
A judge, not you, will decide who raises your children.
The court can lock down your assets so even your spouse has to get court permission before making a financial move.
Any assets you leave to loved ones can be taken by their divorcing spouses, bankruptcy creditors, medical crisis creditors, predators, and frivolous lawsuits.
You may accidentally disinherit your spouse and your children.
Your beloved pet could end up in a shelter or euthanized.
 What Should You Do?
We invite you and your new spouse to contact McDonald Law Firm in Columbia, MD to set up a meeting. We'll walk you through how to protect each other and those you love; how to protect your beloved pets; and how to protect your assets and make things easier for you and your families. Call us now at (443) 741-1088; we look forward to hearing from you.
DISCLAIMER: THE INFORMATION POSTED ON THIS BLOG IS INTENDED FOR EDUCATIONAL PURPOSES ONLY AND IS NOT INTENDED TO CONVEY LEGAL ADVICE.