3 Reasons Veterans Should Have a Professional Advocate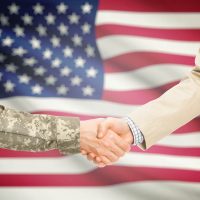 The number of stories of veterans' benefits getting tied up in the system is not only sad, but startling. A quick internet search can lead to story after story of veterans who have struggled to receive the benefits that are owed to them. Robert DiCicco, a former United States Marine, spent his final years battling through the red tape to get his benefits and pay for the bills to his assisted living facility. The sad part is he didn't live to see it. The benefits he was owed did come through ten days after his death, but they were taken back by the Veteran's Administration. The DiCicco family had to begin again as his wife was left to fight for the benefits as his beneficiary. The unfortunate part is that these stories are far too common. In fact, many veterans die or give up before they ever receive benefits. Knowing how and finding a professional advocate is a veteran's best option.
3 Reasons Why Veterans May Need a Professional Advocate on Their Side
Success rates are boosted with a professional advocate.

The National Organization of Veteran's Advocates, Inc. (NOVA) reports that veterans with a professional advocate (attorney) representing them have the lowest denial rate in front of the Board of Veteran's Appeals (BVA). NOVA also notes that veterans with attorney representation are more likely to have their appeals allowed by the BVA. Another great benefit to having an attorney is the Equal Access to Justice Act. This act says that if the attorney wins the appeal, then the government must pay the veteran's legal fees. Therefore, the attorney gets paid without affecting the veteran's benefits.

Qualified attorneys know their way around the process.

Attorneys who specialize in veteran's benefits cases understand the process. These attorneys know what paperwork needs to be filed and when. They can also walk the veteran through the process. Attorneys can read and understand the case files and records which can help the veteran maximize their benefits and even find benefits the veteran may not be aware of. After assessing case files, the attorney can determine the most efficient path to take to achieve these goals. In a system where many veterans are waiting years for benefits, there is a huge benefit to using an attorney.

Having a professional advocate provides personalized help.

A veteran with an attorney advocating for their case has personalized help. Case managers and people within the system cannot provide this kind of assistance to their clients as they are dealing with a multitude of cases. Attorneys and firms generally only take on the number of cases they have time to give attention to, allowing them to fight on your behalf. In addition, an attorney is able to answer claims related questions the veteran may have in a timely manner. Without an attorney, the only way the veteran can get answers is by calling the VA and often waiting long periods of time for answers. An experienced attorney can also help the client to know what records are needed to support claims and to provide sworn statements when necessary. You can be assured that if the BVA is hearing an appeal, they have an attorney. Therefore, it stands to reason that the veteran would want to even out the playing field by having an attorney as well.
When it comes to something as important as veteran's benefits, it only makes sense that a veteran is better off with someone who knows the ins and outs of the process. It is the job of the attorney to advocate for their client, but they also provide support and information which is invaluable. If you don't want to end up like Robert DiCicco and countless others like him, consider getting an attorney as soon as possible to help with your claim.
We are here to help.
If you are a veteran in need of a professional advocate, or would like additional information about something you've read, please call Andre O. McDonald, a Department of Veterans Affairs Accredited attorney, for assistance with your veteran pension planning and estate planning needs.
DISCLAIMER: THE INFORMATION POSTED ON THIS BLOG IS INTENDED FOR EDUCATIONAL PURPOSES ONLY AND IS NOT INTENDED TO CONVEY LEGAL OR TAX ADVICE.